Isioni was the beautiful wife of the sea god Nafplios, who gave his name to the town, and the mother of Palamidis,
Iakas and Nafsimedon.It's a name that escapes the myth to represent the real Nafplio, like Isioni pension whose
unique location under the town's castles represents an authentic experience straight from centuries past.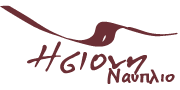 Stay at Isioni Pension in Nafplio.

For any information or inquires please do not hesitate to contact us. Our
Reservation Department will be at your disposal and more than happy to help you.